No matter your situation, if you require concrete layers in Albany, from maintenance or repair services we can do the job for you. Have a chat with one of our friendly consultants.
Why Choose Our Albany Auckland Concrete Layers?
We are your go-to experts for professional concrete laying services in Albany. With a team of seasoned concrete contractors, we're equipped to handle projects of any size or complexity. Whether it's a residential driveway or a commercial foundation, you can count on us for top-quality results.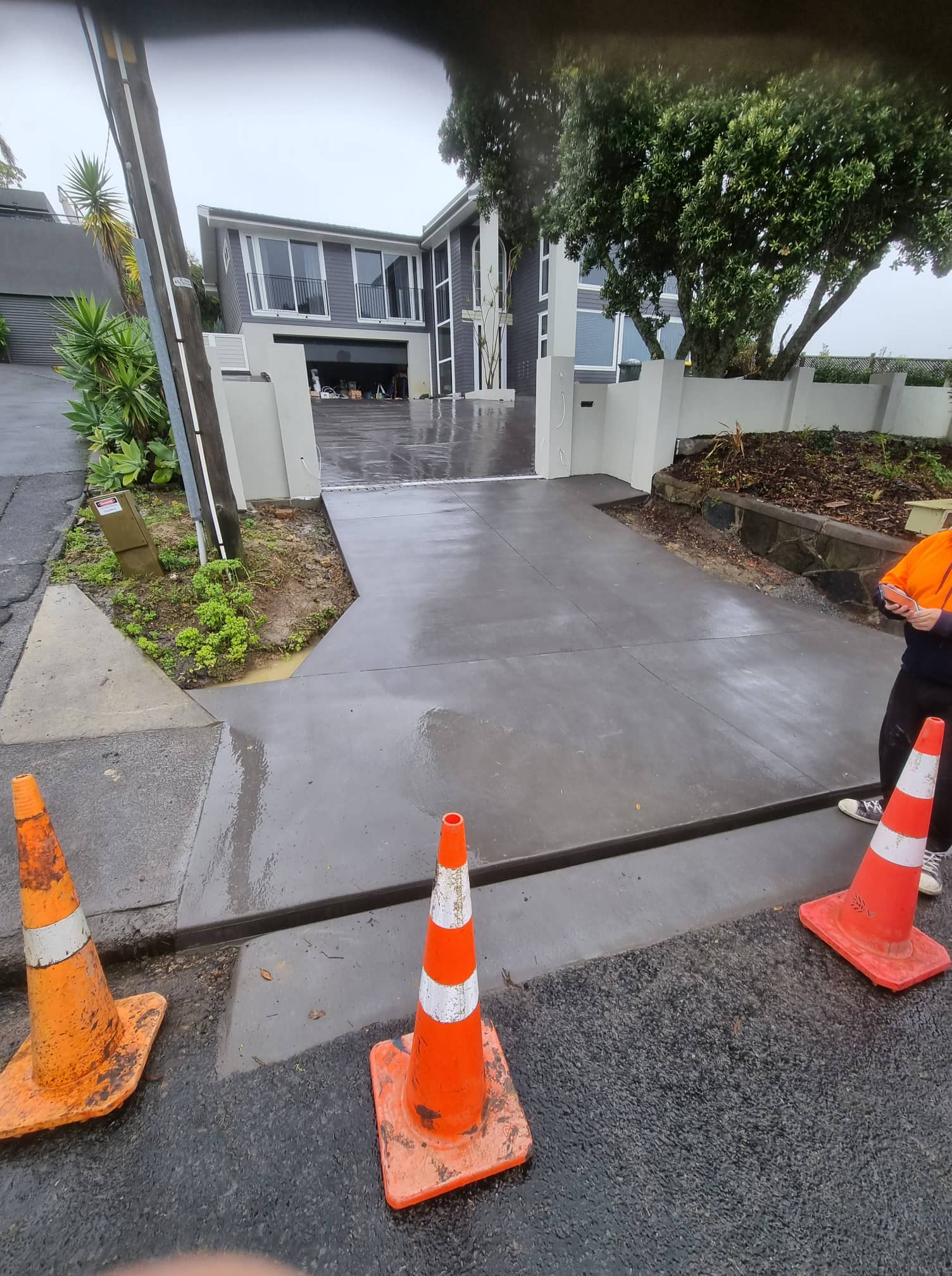 The CM Concrete Concractor Difference
If you're in need of concrete laying services in Albany, don't hesitate to reach out to us. We offer a full range of services including installation, repair, and maintenance, covering all areas in Albany. Your property's surfaces have untapped potential that you may not be aware of. If your concrete patio, driveway, pool deck, or garage floors are starting to show their age, it's time to consult with the experts.
With a skilled and experienced team, we specialize in resurfacing various types of concrete installations, from driveways to repair jobs. Even if your flooring was installed by someone else, we're confident that our services can rejuvenate your home or business.
Contact us today for a complimentary, no-obligation quote.
01
Responsive Concrete Laying
Our Albany Concrete Layers provide top-notch services to both homeowners and businesses looking for excellent value for their money. We guarantee that our work will meet the highest standards, and you can count on our friendly, skilled, and reliable team to deliver as promised. Whether it's a new installation, repair, or maintenance, we're committed to exceeding your expectations.
02
Fixed Price Quote
No Hidden Costs, Our Prices Are Fixed: When it comes to your concrete laying needs in the Albany area, you can trust that you're getting transparent pricing with no hidden fees. The quote we provide upfront is the exact amount you'll be billed at the completion of the project. We believe in fair and straightforward pricing, ensuring your peace of mind throughout the process.
03
12 Hour Online Estimates
Getting a quote for your concrete laying project in Albany is just a click away! For the fastest and most accurate pricing, simply fill out our quick enquiry form. We'll gather all the details you provide, along with any additional information we may need, to offer you a prompt and affordable estimate that aligns with your expectations. Don't wait—discover how competitively priced our services are by reaching out today.
Call 09 886 7010 today for help from one of Albany's leading concrete contractors!
Albany Areas We Lay Concrete
From far north, to Pukekohe and more, we service the entire Auckland area with our concrete laying service. Find your area below!
North Shore Concrete Layers Areas
Albany
Bayswater
Bayview
Beach Haven
Belmont
Birkdale
Birkenhead
Browns Bay
Campbells Bay
Castor Bay
Chatswood
Cheltenham
Crown Hill
Devonport
Fairview Heights
Forrest Hill
Glenfield
Greenhithe
Hauraki
Highbury
Hillcrest
Long Bay
Mairangi Bay
Marlborough
Milford
Murrays Bay
Narrow Neck
Northcote
Northcote Point
North Harbour
Northcross
Okura
Oteha
Paremoremo
Pinehill
Rosedale
Rothesay Bay
Schnapper Rock
Stanley Bay
Stanley Point
Sunnynook
Takapuna
Torbay
Totara Vale
Unsworth Heights
Auckland Central Concrete Layers Areas
Arch Hill
Auckland CBD
Avondale
Blockhouse Bay
Balmoral
Blackpool
Eden Terrace
Eden Valley
Ellerslie
Epsom
Freemans Bay
Glendowie
Glen Innes
Grafton
Greenlane
Greenwoods Corner
Grey Lynn
Herne Bay
Hillsborough
Kingsland
Kohimarama
Lynfield
Meadowbank
Mission Bay
Morningside
Mount Albert
Mount Eden
Mount Roskill
Mount Wellington
Newmarket
Newton
New Windsor
Onehunga
Oneroa
Onetangi
One Tree Hill
Ōrākei
Oranga
Ostend
Ōtāhuhu
Owairaka
Palm Beach
Panmure
Parnell
Penrose
Point England
Point Chevalier
Ponsonby
Remuera
Royal Oak
Saint Heliers
St Johns
Saint Marys Bay
Sandringham
Stonefields
Surfdale
Tāmaki
Te Papapa
Three Kings
Waikowhai
Wai o Taiki Bay
Waterview
Wesley
Western Springs
Westfield
Westmere
South Auckland Concrete Layers Areas
Airport Oaks
Beachlands
Botany Downs
Brookby
Bucklands Beach
Burswood
Chapel Downs
Clendon Park
Clevedon
Clover Park
Cockle Bay
Dannemora
East Tāmaki
East Tāmaki Heights
Eastern Beach
Farm Cove
Favona
Flat Bush
Golflands
Goodwood Heights
Greenmeadows
Half Moon Bay
Highland Park
Hillpark
Howick
Huntington Park
Kawakawa Bay
Mahia Park
Māngere
Māngere Bridge
Māngere East
Manukau
Manukau Heights
Manurewa
Maraetai
Meadowlands
Mellons Bay
Middlemore
Murphys Heights
Northpark
Orere Point
Ormiston
Ōtara
Pakuranga
Pakuranga Heights
Papatoetoe
Randwick Park
Settlers Cove
Shamrock Park
Shelly Park
Silkwood Heights
Somerville
Sunnyhills
The Gardens
Totara Heights
Tuscany Estate
Waimahia Landing
Wattle Cove
Wattle Downs
Weymouth
Whitford
Wiri
West Auckland Auckland Concrete Layers Areas
Anawhata
Cornwallis
Bethells Beach
Glen Eden
Glendene
Green Bay
Henderson
Henderson Valley
Herald Island
Hobsonville
Huia
Karekare
Kaurilands
Kelston
Konini
Laingholm
Lincoln
McLaren Park
Massey
New Lynn
Oratia
Parau
Piha
Rānui
Royal Heights
Sunnyvale
Swanson
Te Atatū
Te Atatū Peninsula
Te Atatū South
Titirangi
Waiatarua
Westgate
West Harbour
Western Heights
Whenuapai
Rodney Concrete Layers Areas
Algies Bay
Arkles Bay
Army Bay
Big Omaha
Dairy Flat
Dome Forest
Dome Valley
Glorit
Gulf Harbour
Hatfields Beach
Helensville
Huapai
Kaipara Flats
Kaukapakapa
Kumeū
Leigh
Mahurangi East
Mahurangi West
Mangakura
Manly
Makarau
Matakana
Matakatia
Millwater
Muriwai
Omaha
Orewa
Parakai
Pakiri
Point Wells
Port Albert
Puhoi
Red Beach
Redvale
Riverhead
Sandspit
Shelly Beach
Silverdale
Snells Beach
South Head
Stanmore Bay
Tapora
Tauhoa
Taupaki
Tāwharanui Peninsula
Te Arai
Te Hana
Ti Point
Tindalls Beach
Tomarata
Wade Heads
Waimauku
Wainui
Waitoki
Waiwera
Warkworth
Whangaparaoa
Whangaripo
Whangateau
Wharehine
Wellsford
Woodhill Forest
No matter your situation, if you require concrete layers in Auckland, from maintenance or repair services we can do the job for you. Have a chat with one of our friendly consultants.
Frequently Asked Questions about Concrete Services in Albany
What sets Albany concrete contractors apart from others?
Albany concrete contractors are known for their high-quality work, attention to detail, and familiarity with local building regulations and climate conditions. This local expertise ensures a durable and long-lasting result.
How do Albany's climate conditions affect concrete laying?
The climate in Albany can have a significant impact on the curing process of concrete. Local contractors are well-versed in adjusting their techniques to accommodate for the local weather, ensuring optimal durability.
Is colored concrete popular in Albany?
Colored concrete is becoming increasingly popular in Albany as homeowners seek unique and customized designs. Albany contractors offer a variety of pigments to suit different aesthetic preferences.
What are the permit requirements for laying concrete in Albany?
Permit requirements can vary depending on the scope and location of the project. However, most concrete laying projects in Albany do require a permit from the local council. Always check with your contractor and local authorities to ensure all regulations are followed.
Albany Concrete Contractors: Your One-Stop Solution
Albany concrete contractors are the go-to experts for all your concrete needs, delivering unparalleled quality and craftsmanship in every project they undertake. With years of experience and deep knowledge of the local construction landscape, these contractors have developed a reputation for reliability, professionalism, and high-quality work.
Driveways
One of the standout features of Albany's concrete contractors is their adaptability to the specific needs of the region. Albany's unique climate conditions require specialized techniques and materials to ensure a long-lasting and durable concrete driveway. These local experts are adept at tailoring their services to meet these specific conditions, ensuring your new driveway stands the test of time.
Foundations
Another great benefit of opting for Albany concrete contractors is their expertise in laying foundations. Not just any concrete will do when it comes to the foundational elements of a building; it requires the touch of experts. These contractors have a rich history of laying foundations that are as durable as they are safe.
Patios
Transform your outdoor spaces with exquisite concrete patios. Albany concrete contractors offer a wide range of design options, from stamped and colored concrete to intricate patterns and finishes. Make your patio the talk of the neighborhood with their high-quality, customized services.
Paths
Be it garden paths or walkways, Albany concrete contractors know how to add that special touch. Their paths are not just functional but also aesthetically pleasing. They use a variety of materials and techniques to create paths that are both durable and visually striking.
Cost-Effectiveness and Transparency
Cost-effectiveness is a major consideration in any construction project, and Albany contractors excel in this area as well. With transparent pricing and a focus on delivering value for money, you can expect high-quality services without any hidden costs.
Peace of Mind
With Albany concrete contractors, you're not just getting a service; you're investing in peace of mind. These professionals adhere to stringent safety and quality standards, and they are fully licensed and insured.